We're on page 3...
...of the Reading Evening Post!

Yup - thanks to the Post for featuring us in their "By George" section. Hopefully some of the Post readers will consider sponsoring us ;-)

I actually found out that we were in the paper when I went to the Post Office to get the IDP, and the lady behind the counter mentioned seeing something in the paper after I explained why I needed the permit!

I've finished adding a few stickers to Veronica, it's now only a few hours before the trip starts. Meridian TV are doing some filming tomorrow of some of the teams meeting up enroute for Dover, we're hoping to get involved too.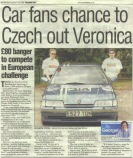 Added: 30/Aug/06 by Darren
---
Team Insaner are not responsible for any comments added by 3rd parties.