Team Insaner Home
What?
CRX2006 is CzechWrecks, a European banger rally.
Where?
The route is from Calais to Prague, taking in Switzerland, Italy and Austria on the way.
Why?
Erm, we're not sure - but we thought it was a good idea when Stan told us about it!
Final charity update
A £250 cheque from the company where John & I work arrived today, so the absolute final total raised for Leukaemia Research is £1583.49. A big thanks to everyone who donated.
Added: 30/Oct/06 by Darren 0 comments
Final charity update? Video news
I've finally got all the sponsorship forms back, totalled up and John's taking the last of the money to the bank today. Our total now stands at £1333.49 though my company may be giving us £250 which would tip us over the £1500 barrier.

Take a look at our video page - which has links to our Stelvio Pass clip on YouTube. I've got some more clips to edit and upload to YouTube when I have some spare time.
Added: 20/Oct/06 by Darren 0 comments
Charity and rally updates
Our JustGiving website closed this morning - with a total of £520 raised (plus a further £130 in GiftAid, though I believe some of that is an admin charge by JustGiving.)

On top of that, we are also collecting money from people who sponsored us on our paper forms. We're pretty hopeful that we could get as much as £1500 when it's all tallied up!

Thank you to all our sponsors :-)

We also found out yesterday that we finished the rally in 6th place! The top 3 teams were very close together, then there was a gap followed by the next 3 teams which were also very close. The positions were based on the challenges each day (which not every team completed) so the fact that we didn't actually drive into Prague hasn't affected our result.

Added: 21/Sep/06 by Darren 0 comments
After the rally - Veronica in Prague?
Team Insaner and Trolley Jack Tours spent a few more days in Prague, seeing the sights and meeting up for the odd beer with the Bolton uni guys.

I'd previously liberated the rear registration plate from Veronica and decided that we ought to prove that at least part of the car had made it across the border, so a few pics were taken...
Added: 21/Sep/06 by Darren 0 comments
Day 4 - Salzburg to Prague
After a little early morning argument between me & John(!) we headed into central Salzburg for the Le Mans start to day 4. There were no challenges for day 4, so it was just a case of driving to Prague by any suitable route. We started off in a convoy of a few rally cars on the motorway and this continued through most of the morning. The miles zoomed past and we started thinking that our chosen route was a good 'un. There were 2 main choices, one route via Germany, the other through Linz in Austria. We chose the latter as it seemed a little more direct.

As we approached the Czech border a couple of guys from another team ran up to the car. "The border guards are being really anal and checking VINs and every scrap of paperwork..." They took our passports as we arrived and directed us to park with a handful of other rally cars. After a long and tense wait, during which team Hugh Jarse arrived in Batman & Robin costumes, one of the guards approached us. Andy had already wandered off to a nearby hut and bought another Austrian vignette (the girl hadn't understood him) and a Czech permit, which we attached to the windscreen on the grounds that we were obviously keen to show the right spirit.

"Who is the driver?" I stepped forward - it made sense as all the car documents were in my name. "Licence, papers?" I handed over my IDP, licence, V5, insurance... "VIN?" We'd already checked the Haynes manual, so were able to point to the VIN plate and also the number stamped on the bulkhead. "Fake, not manufacturer." "No. It's original. See this form, it is the same as the car, the stamp was made by Rover."

He wouldn't accept it. The only other English he seemed to know was "turnaround. Go." We tried discussing it, but he just looked back and repeated his words. There was no choice, but to turnaround and leave the Czech Republic. As we crossed the border post, he handed back our documents. We knew they'd been photocopied, so didn't dare go to a different border crossing. After 1500 miles, and with barely 150 miles to go we'd been cheated of the final drive.

It was obvious that the officials knew what the rally was about - Czech TV crews were filming and most cars had the rally stickers. They were afraid that we were going to ditch our cars in their countryside - something which the rally instructions vigourously forbade. To the best of our knowledge Veronica's VIN was genuine, we had no reason to doubt this. We also had no intention of ditching the car - we even had a for sale notice written in Czech (translated by Stan!) for Prague.

The small restaurant between the Austrian and Czech border now contained 4 rally cars. As we saw the marshalls' van approach we called them on the radio to explain the situation. They got through the border, but Justin in his unmarked 827 was turned away too (due to a documentation problem.) In the car park we tried to decide what to do. I called the TJT guys - they had room for 1 person and did manage to get across the border, and other teams had a couple of spare seats.

Justin decided to head back to Linz and hire a car, he would then collect his 827 the next day. When he talked of hiring a minibus our minds were made up. Along with 2 other teams we would scrap our cars in Austria and wait for Justin to return with the bus.

Knowing that the car didn't have to last any more, Andy started using the engine a little more - though this did result in the Golf 1.2 behind us asking us to slow down as they couldn't keep up! We had to call braking over the radio too - Veronica was very hot on her brakes and Andy did find a couple of places that looked like they might be suitable garages.

Finally, after getting a bad translation from a Mazda garage mechanic we found a garage that seemed to be interested in buying 3 cars for 1 Euro. There was a little confusion as to whether we wanted 1 Euro each for the cars or 1 Euro overall! This all changed when we pulled into the garage and the guy realised that all the cars were right hand drive. Sadly he couldn't use them, but offered to scrap them for 30 Euros each. The offer was accepted and I set to work removing the V-box, along with some trim and relays that Justin wanted for his 827. A few last photos were taken as everyone unloaded their bags before everyone but me headed off to McD's.

Whilst I was starving to death (btw, thanks Andy for bringing me back some food!) an Austrian police car pulled into the garage. They were there to take photos of a drainpipe that had been hit by a car, when they spotted 3 unusual foreign cars. I started explaining the story of the rally and the Czech border in very poor German before switching to English. At this point the others returned from McD's and seemed a little confused to see me with the police!

Shortly afterwards Justin & Karin arrived in a Transit minibus and we headed back on the road to the border. The (different) guard barely glanced at the handful of passports before waving us through. With mixed emotions, we were now in the Czech Republic. I took the opportunity to phone my insurance company to cancel Veronica's insurance.

The road to Prague was mainly single carriageway, with a crawler lane on some of the uphill stretches. Despite this we made good time, due to Justin's habit of overtaking whenever a car in front decided to pull out. If the hire company had fitted a counter to the rev limiter they could have made a small fortune! At one point we were overtaking when a pickup in a layby on the other side of the road decided to leave the layby. The verdict on this game of chicken was UK 1 - CZ 0, but it was a little close for my liking.

As we arrived within radio distance of central Prague I heard from the TJT boys that our apartments were far better than they'd expected. They directed us round Wencelas Square from their lofty perch above the Marks & Spencer store! We piled out of the minibus and headed into the apartments. The balcony was actually overlooking the rear of M&S (with a decent view of the castle) but a small service balcony for the microwave dish and aerials was a few feet higher up and gave us the view of the Square.

Totally worn out and not in the best mood (thanks to our border guard friend) we headed to the restaurant in the Old Square for the final meal and presentation. We'd missed the grand finish - the press had been waiting for the first cars to arrive, but from what we heard the police weren't too chuffed about the cars! After the prizes were handed out, I made the effort to say hi to the winning teams before everyone headed off to different bars.

A fair number of teams ended up in the Music Bar, where beer was 24CZK (~60p) and tales of border crossings were swapped. Despite everything that had gone wrong with their car TLDB had made it to Prague, as had the Bolton uni guys (whose Mondeo had finally given up outside the restaurant and had had to be craned away!)

The presentation was a bit of an anti-climax for us, meeting people in the bar seemed a better end to the trip.

Added: 20/Sep/06 by Darren 0 comments
Day 3 - Bormio to Salzburg
For me, today was going to be a highlight of the rally. I'd seen pics of Stelvio from the Staples2Naples rally and figured it was going to be fun to drive, especially as it was my turn with the wheel. We had to wait for Stelvio though, as today we were meeting the mayor of Bormio.

After harsh warnings about leaking fluids onto the pristine, pedestrianised areas of Bormio we carefully parked in the town square. Actually, we filled it. Locals stood by looking amused at the cars and even without knowledge of Italian you could tell that the words "crazy" and "English" were being used. A police car parked next to Veronica and before I could chuckle at the lack of switches on their console compared to our V-box controls we were moved slightly more out of the way, so that some locals (who had foolishly parked in the square) could escape. We were now conveniently placed to spray water from the side jet into the Fiesta Van as the cars moved out. Our rear wash jet was used on one of the Bohemia BMWs, though they got out to retaliate with a paintball gun so I switched to the side jet!

After Justin's brief photo opportunity with the mayor, rally packs were handed out and we were escorted through the narrow streets. I've never seen anything like it! Most of the town appeared to be lining the streets, cheering and waving. We only just heard them, as the V-box was running flat out - playing everything from Dixie to Monster, to submarine dive klaxons. Other cars had people leaning out of the windows, sitting on the sunroof and generally larking about. We couldn't climb out of our sunroof due to the camcorder which was carefully gaffer taped and wedged in. For Den's benefit - it wasn't your camcorder mate - that was inside recording the pictures from the roof one!

We came to the edge of the town and were waved out towards Stelvio Pass. The camcorder was switched on after the first couple of bends and we start climbing. Although they didn't realise it, a non-rally Punto a few cars in front of us was the subject of much discussion on the radio. The rallying Skoda Favorit behind them was being encouraged to overtake as somewhere behind us a few cars were suffering from clutch problems. Having 2 people in the front proved really useful for the hairpins and it was common to call visibility on the bends as some needed to be taken quite wide. It became obvious as we climbed that Veronica was getting hotter under her collar, err - bonnet. A great chunk of her radiator was finless so even with good airflow it was harder for her to cool down, and dragging up Stelvio wasn't exactly providing much airflow. The gauge rose until the little red light came on. Then it climbed higher. It did seem to settle in the red zone - with still some space to rise higher. When we did reach the top, I pulled into the first car park, popped the bonnet and held the revs at 3000rpm for the first few minutes to keep the water pump busy. The temperature started dropping and we took a look around the engine bay. Apart from a slight leak from the main coolant cap, everything else looked fine. When your engine is a big mass of pipes like Veronica's Honda V6 you don't mess with it whilst it's still working! Other teams were arriving whilst we were cooling down, one BMW pulled in and turned the engine off - despite the steam coming from the rad.

High above the road, a castle or folly looked down across the pass. I headed up the steep slope and realised that a couple of days of no exercise were having more effect than I'd imagined. I guess the altitude may have made a difference too... The view from halfway up of the first cars descending the Pass was pretty cool. It was from here that we first heard of the motorbike accident over the radio. From what we heard, it seems the biker cut the corner coming up and clipped the left tyre of one of the BMWs with his foot peg. He ended up coasting his way back down the mountain on his damaged bike, lucky for him that he hit a cheap car that wasn't fussed about the damage.
After taking more photos from the very top we headed down the other side of the Pass. Using a lot of sensible gearchanging and a little braking we made it down with zero brake problems. Notice I didn't say zero problems? The clicking CV joints made a fairly nasty noise on one hairpin which caused a collective Team Insaner wince. There was a large number of hairpins on the way down (and generally only about 200m of straight between them) and with the mad bikers and slow cyclists coming up we didn't really want to be hearing that kind of noise. So, when the noise sounded a lot worse a few corners later no-one said anything about it - and that was the last noise it made on the Pass! It was only later in the day that we commented that no-one had mentioned it again...

After some time checking the map we decided to head for Resia Pass then via Innsbruck to Salzburg. That was the plan, anyway. Resia Pass was virtually flat, but very scenic and it was purely by chance that we spotted the church steeple sticking out of Reschensee. This was one of the pics in the rally guide - and I'd believed that it was somewhere near Prague.

There's something about the afternoons on this rally that cause us problems. After a detour (we did stop to ask a local about the length of the diversion as we really thought it would take us miles out of the way) we started heading towards Innsbruck (which we had intended to stop at for a few minutes.) Although he didn't say it at the time, Andy in the 'nav' seat had spotted that after many hours in the car, we were still only an inch or so from Bormio and several inches from Salzburg. :-( For the sake of our morale I think he did the right thing!

Once we got on the faster roads we were able to concentrate on the challenge - taking photos of different nationality numberplates. German, Austrian and Italian cars were popular, but every now and again we'd see something out of the ordinary - like a Landy with Israeli plates. After a while I could spot unusual plates in the passenger mirror and be ready with the camera for when they drew level. The best hunting was in lorry parks - we then realised how Badger Racing got such high scores on the challenges when we spotted them driving round and round one! They were surprised when we used the PA function of the V-box though ;-)

One plate nearly got away, we did wonder if they'd been followed by other rally cars too. However with over 190k on the clock we got our photo... Conveniently our hotel in Salzburg had Swedish and US cars in the car park. According to our Europe atlas there are ~41 country plates in Europe (including the various Channel Islands.) We managed 32 plates - though some were from outside Europe.

We got into Salzburg in reasonable time, all things considered, and were very grateful for the GPS as a number of roads were closed. The rally restaurant appeared to have just one poor woman working flat out taking orders, cooking and serving so we found an Indonesian place a few streets away - which soon filled up with rally folk!
Added: 20/Sep/06 by Darren 0 comments
Day 2 - Annecy to Bormio
The rally was split across 2 hotels in Annecy, ours at the top of the mountain, another at the bottom. Everyone had to meet up at the bottom hotel for the start of day 2. I'd taken a stack of early morning pics of the mountains from the balcony, but Andy had gone one better and had found a spot for taking a good pics of Veronica. We headed a little further up the road and John did an interesting 3 point turn with guidance from Andy standing by the vertical drop! After the photos we headed back down towards the hotel car park - triggering a burst of "What's that coming over the hill, is it a monster?" as we passed the marshalls! A couple of corners later Justin overtook us in his 827 and disappeared into the distance. John realised that yesterday's hillclimb had taken its toll on our fuel and we were running on fumes. I radioed the marshalls behind us, asking if they knew of any nearby petrol stations. "It's downhill - coast it!" encouraged Jon, before asking "does anyone in front know where we're going?" We were fairly blindly following Top Cats and Soap Me Down Mutha and had missed the crossroads, so powered up the GPS and directed the Top Cats' Escort. I was amused by our convoy as we approached the town: Andy would call out directions to me, I'd radio them to Top Cats and as they indicated the big Saab in front would suddenly realise which way to go!
After a fuelling stop we met the other teams and received the day's challenge. Further repairs were being undertaken, especially the TLDB Volvo which was still suffering brake issues. Stories of them driving down the mountain with only the handbrake for company were being passed around!

The start was a bit of a mish mash. 40 odd cars (and some were really odd) trying to get out of one exit. At least one car was seen turning against the road signs and 200m up the road everybody was attempting to u-turn. At least John selected a better place to perform this, even if he didn't notice the French car bearing down on us... I had said that I was watching left and calling traffic from that side for him. Still, skid marks do not an accident make as Yoda would say. ;-)

Today's challenge was a souped up version of an observation test. We had A4 sheets containing 20 cropped images, our job being to take a photo of the complete image - which could be found somewhere on the 300+ mile trip before Italy. One of our images was a Swiss mountain village, another was a particular road tunnel. I was impressed that we spotted some of ours, even doing a u-turn to go back for one pic that we knew we'd just missed. Again, my camera stayed on high zoom, burst mode and I didn't see much of Italy as I sat in the back deleting the unwanted pics and marking the useful ones.

The Simplon Pass was a highlight of this day. It did seem that a huge chunk of this region is either underground in a tunnel or hanging off the side of a mountain on a cantilevered roadway. There was a parking spot on the first section which we used to let Veronica cool down a little, though she didn't really get that hot.

I drove the last segment of the day into Bormio. We couldn't initially see from the guide where the hotel was supposed to be, but as the radio started picking up more chatter I spotted rally cars and Veronica dived into the car park. I think we would have otherwise had an early scenic tour of the town!

I believe we scored 14/20 on the challenge (and there were 50 points for a correct image.) There was one shot we knew we'd missed, plus a few pics of what seemed like random, rocky outcrops - but we thought we'd done well. As with the previous day, better teams had scored 17/20. At least we got in a couple of hours before the TJT team to make up for yesterday!

Added: 20/Sep/06 by Darren 0 comments
Day 1 - Calais to Annecy
After last night's pre-rally registration in a restaurant called the Flying Pig where we spent a chunk of the evening diagnosing faults on Two Little Dicky Birds' Volvo, we were looking forward to getting started on the rally proper. The Auchan's car park had a few rows filled with a strange mix of cheap looking cars on English plates and cheap looking French shoppers' cars. And that was before anyone commented on the halfwidth 2CV. I was amused to see the French happily loading their shopping around the clusters of banger rally teams!

Each team was handed a rally pack containing freebie mugs, a cheap PMR radio for inter-team communication and the full rally guide. According to a note in the pack our rally t-shirts would be catching us up during the rally due to a number of issues with the printers. (We finally found out after the rally that when they did arrive they'd chosen different colours for the Czech flag...)

Today's challenge was to pick a letter of the alphabet and take photos of objects beginning with that letter (with a few limits on the subject - especially no body parts.) Now, what body parts begin with 'W' anyway....? ;-) Our plan was to pick a couple of letters and see which did best - but this went out the window as soon as we started seeing lots of Wind and Water powered stuff, so 'W' it was. I'd bought a new camera for the trip and the zoom and burst modes got thoroughly abused. Tempers did get raised in the car at one point after I missed 3 consecutive windmills, having a collection of 40-odd glimpses of hedge, armco and passing trees. I did try explaining that taking shots at 12x zoom from a speeding Rover wasn't far off Tom Cruise trying to get a missile lock in a bit of a Top Gun moment...

The trek to Annecy was really a high speed cruise across France's motorways which were pretty quiet. There were a number of moments where we'd see other teams - especially at petrol stations - but otherwise Veronica just kept her head down and whizzed across the scenery. We only stopped to swap seats: driver to the passenger 'observer' seat, passenger to the rear 'nav' seat, and so on. The stash of snacks and water behind the driver's seat got slowly depleted as we weren't stopping for lunch.

All went well until I took over the driving... We found a sign leading off the main road to "The Forest of Windmills" (well, it was the French version of the sign!) and decided that it would be a useful 'W' pic shot. As we found out, it may have been a forest of them in the past - but it was now just a prettily named, partially built housing estate :-( We got back onto the main road and shortly afterwards got into a traffic jam. To make matters worse the "steak" I'd eaten in Calais appeared to be trying to alert me to its' quality and was looking to escape in a downward direction. I'm sure the French make fantastic steaks, but this had been closer to an undercooked mass of mince (at least I think it was mince.) We passed through a small town and I made a very fast decision to pull into a restaurant car park - I'm pretty sure the engine was still dying as I left the car at warp speed. Of course, being laid back French people, the restaurant was closed. I did eventually find a toilet in a small cafe, but not before I discovered that pet shops and gravestone masons don't have toilets.

Our next stop was in Annecy. We only took 30 minutes out to walk around, but the view across the lake was worth stopping for. I don't think many other teams actually stopped here which was a shame (though we did spot the 2 guys in the Fiesta van on the way in.) As were were leaving the car park, the Trolley Jack Tours guys texted me from the mountain-top hotel.

I'm not quite sure what happened after this. We did have directions in the rally guide, but Andy & John couldn't actually make sense of them. For a short while we followed another couple of rally cars, but then realised they were lost. Minutes later we saw them coming the opposite way down a road, then a little later we overtook them. Deja vu was becoming the norm as we circled round a few roads, failing to find the one that climbed upwards. Eventually John & Andy traced the route back on AutoRoute and the other GPS and we started climbing the mountain. This was a great piece of road and Veronica flew up it. Andy was calling out some of the harsher bends from the GPS and we made good progress. The TJT guys called and texted a few more times, wondering where on earth we'd got to, but we have to admit to stopping to take sunset photos on the way! Still, some of the teams we'd been overtaking and passing in opposite directions turned up significantly later.

As we pulled into the hotel car park there were cars everywhere, including a number that were being repaired. Two Little Dicky Birds' Volvo was undergoing serious brake surgery, Soap Me Down Mutha's Saab had an engine mount replaced by torchlight. We were impressed that Two Little Dicky Birds had made it so far with their flaky turbo - but this was actually the least of their worries...


Taking part in the challenges is fine. It keeps the team occupied for some of the time and gives a competitive edge to the event. However, it does mean that you have to sit down with the marshalls so they can check your camera. Colin did his best to discredit some of my finest photography - well he did have 60 photos to wade through. He did reject half of our Annecy pics, but then we did claim to have photos of a widow, widower, wenches... (you get the picture!) I think we ended up in the mid 40's which we were chuffed with - until we realised that the winning team had 100+! Still, at least we were allowed to use our "Whatchamacallit" pic. After all, if a marshall can't tell what it is, it has to be a "Whatchamacallit" ;-)

Added: 20/Sep/06 by Darren 0 comments
Day 0 - France
Well, the good news is that we made it to Calais... I was quoted in the paper as saying that we had a good chance if we made it this far. We met up with a few other teams at Maidstone services this morning and watched a news item being filmed by Meridian news, I suspect Veronica is visible in the background of some of the shots :-) Our entrance to the car park featured the first public test of the V-box as the chorus from The Automatic's "Monster" drifted across the car park. There may have also been a few tests later on the lower deck of the ferry as we left... Oh, I nearly forgot to mention that CRX organiser bod Justin managed to damage the front spoiler of his 827 when he caught it on the kerb as he arrived. Great entrance, Justin! :-P Team Insaner's gaffer tape came to the rescue...

Amusingly we led a convoy to the hotel with John in the rear seat with the laptop running Autoroute, Andy in the passenger seat with not just one, but 2 GPS and me driving. We spent a while chatting with the other teams in the car park before heading to reception where we found that none of us had valid reservations. :-( Fortunately we got the last room in the next hotel along, and I checked my credit card to find that it had never been charged (despite having the reservation confirmation printout...) So - nul points to F1 Coquelles - Team Insaner farts in your general direction!

Added: 31/Aug/06 by Darren 0 comments
It's today!
Well it's finally rally day 0! John's been really hectic during the evening, trying to pack, Andy was preparing to pack when I spoke to him and I've spent the evening dancing (and collecting more sponsorship money!) In a few hours we'll be setting off to Dover, so I'd better do some sleeping first...

The secret photos have now been revealed to everyone, hopefully the other teams will be too busy to take a look before they leave.

Added: 30/Aug/06 by Darren 0 comments
We're on page 3...
...of the Reading Evening Post!

Yup - thanks to the Post for featuring us in their "By George" section. Hopefully some of the Post readers will consider sponsoring us ;-)

I actually found out that we were in the paper when I went to the Post Office to get the IDP, and the lady behind the counter mentioned seeing something in the paper after I explained why I needed the permit!

I've finished adding a few stickers to Veronica, it's now only a few hours before the trip starts. Meridian TV are doing some filming tomorrow of some of the teams meeting up enroute for Dover, we're hoping to get involved too.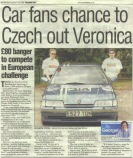 Added: 30/Aug/06 by Darren 0 comments
36 hours to go!
Things are getting a little frantic now! We finally got all of Team Insaner and Trolley Jack Tours together to go through checklists of stuff and meet up. They're frantically adding stickers and breaking lights! :-P

Some of our last minute stuff isn't that critical - loading music and iTunes onto the laptop - but then I did lose Veronica's V5 earlier today which was slightly more than annoying. John had borrowed a camcorder, although the output is good the recorder bit is broken. Luckily my friend Den has offered to lend us his camcorder :-)

Meanwhile, Andy has fixed Veronica's sagging bootlid - we can load the boot without fear of the lid smacking us on the head :-)

Tomorrow we are doing the last minute packing thing (ie all of it!) plus buying the forgotten essentials. Andy also found out that we need an International Driving Permit to drive in the Czech Republic, so that'll take up some more valuable time. I also intend to put our hidden pictures into the public part of the website late tomorrow.
Added: 29/Aug/06 by Darren 0 comments
Money, Evening Post and more gadgets
It's all starting to get a bit close now. There's only a week or so before we leave for Calais and I'm getting a little nervous. There are some interesting noises coming from various parts of the car - we ought to have a quick check at some things underneath before we go...

A quick update on the charity front - we've now passed the £500 barrier, so many thanks to everyone who has donated so far. Veronica has visited Lasham gliding club, an amateur theatre group in Fleet and is off to meet the Ceroc crowd in Swindon tomorrow. John & I had our photos taken with Veronica today by an Evening Post photographer - though we don't know when the article is likely to appear.

Last night John & I completed the wiring of the V-box and one of the other gadgets. We're obviously easily amused, but we are looking forward to seeing it working once the rally has started... The latest rally prep photos are now online here but you will need a password (which you can get by contacting us.) The only reason for this is that we want to keep the car as a surprise for the other teams until we get to Calais.
As the rally is now over the password is no longer required!
Added: 22/Aug/06 by Darren 0 comments
The V-box is in!
If you've read any of our website you'll know that Veronica is the name of our car. Well, now we have the V-box fitted - born from an idea when John and I were driving Veronica back from Carlisle. I don't want to give too much away, but big thanks are due to Mike Johnson for his work in producing the design to our spec. I'm now working on a new gallery which will go live when we reach Calais. If you've sponsored us and you're not in a CRX rally team then add a comment to this entry and we'll send you a link and password if you want to see more!

John & I went to New Malden at the weekend to a pre-rally meet up. We had a chat with some of the H2R and S2N teams, but didn't see any CRX teams. It was also a chance to meet Justin - the man behind the StreetSafari name. It turns out he's after a few bits from Veronica for his 827 when we get to Prague.
Added: 14/Aug/06 by Darren 0 comments
Veronica meets the Lotus 7 Club
Anyone who knows me will know that very few things prevent me from blatting my Caterham 7 down to the Phoenix at Hartley Wintney for the Lotus 7 Club meetings. So it was quite unusual for me to turn up in an old Rover 825i instead on Wednesday night. A quick demo of some of the gadgets when I arrived amused a few people.


Thanks to StickyFX some more stickers have arrived and been applied to the car. I've noticed that the rust patches are growing larger so these stickers may have a structural use in the coming weeks!
Added: 11/Aug/06 by Darren 0 comments
Stickers stuck and a new member!
On Saturday John learnt that you can't apply an A3 sized vinyl sticker in one go! With some careful work with a Stanley knife we fixed the slightly damaged '4' and 'S' on the bonnet sticker. By the time we'd added the door stickers we were on a roll. :-) The official CRX vinyl stickers do look really good, especially against the steel blue paint of Veronica. It is a little odd driving the car now as it does attract confused looks from people! We applied some other stickers to help with the overall theme, plus I've ordered some specially designed stickers... 2/3 of Trolley Jack Tours and their Volvo turned up and then proceeded to dismantle parts of their car on my driveway...

Meanwhile most of the evenings last week were spent inside Veronica with a soldering iron, or in my garage with a drill and bits of trim... The gadgety stuff is now looking, er very tasteful. I'm not sure Q would approve though!

And in other news, Team Insaner has gone through an extensive selection and training programme to find a new team member. Ok, we'd spoken to him before, but this time we went down the pub for a chat and showed him Veronica - and he still wants to join the team! Welcome aboard to Andy Blackwood.


Added: 7/Aug/06 by Darren 0 comments
More on the gadgets and a possible theme.
I can't give too much away here, as we don't want to spoil the surprise for other teams competing in CzechWrecks, but I spent a happy couple of hours working on Veronica yesterday afternoon. After realising that I couldn't get a drill into the space under the bonnet where I was intending to fit something, I decided to use a different method. A hammer and bradawl. It was at this point that my neighbour came over and asked how the maintenance was going!

Anyway, I managed to fit the items eventually and found a suitable grommet for taking wires from the cabin to the engine bay. I'm impressed - I was worried that I'd have to drill a hole and find a grommet from the garage.

I've been having some more thoughts about a theme for the car. Initially I wanted to pick a car from a film, but my latest thought is to have something a little more generic - a Bond car. This is partly because we haven't really found any one film car we want to copy, and mainly to save us having to paint the entire car! So, now we need to mix and match bits from various Bond cars to suit us :-)
Added: 24/Jul/06 by Darren 0 comments
Charity announced
We've decided to raise money for the Leukaemia Research Fund, so please visit our JustGiving donation page and sponsor us!

Added: 21/Jul/06 by Darren 0 comments
Coolant fixed?
I've added an o-ring to the coolant level sensor which seems to give it sufficient clearance and allows it to seal better. John & I took Veronica on a 20 mile trip in 30C heat to test it, and it seems to be ok...

In other news, we've just started work on a gadget - initial results are promising...
Added: 17/Jul/06 by Darren 0 comments
I wonder if CRX has a finder's fee?
AndyG, AndyB and Rob are now in the running for CRX having bought a Volvo at the weekend. Team Insaner may have a sister team after all! We toured a few scrapyards searching for cars and Rover parts, but had no joy finding the coolant level sensor. I've inserted an extra o-ring into the cap to see if it lifts the sensor far enough to seal properly. Veronica was quite quiet when I took the two Andys out for a demo run - though there was some kind of knocking that could be the exhaust loose on its' mountings.

I decided to spray WD40 onto the runners of the rear window that was playing up on Sunday, but after the window went down it wouldn't come back up again. :-( The Haynes manual carefully avoided mention of some of the screws holding the trim together so it took a while to get the window unbolted and the mechanism freed. It's all back together now (in a temporary fashion) but I'm thinking of disabling the switch to save hassle...
Added: 28/Jun/06 by Darren 0 comments
Cheap fixes and bigger worries
We put Veronica up on ramps the other night at AndyG's and inspected the CV joints. Both driveshafts are very waggly, especially on the outboard joint each side. :-( According to the notes we received with the car, both driveshafts were replaced within the last 3 years (25000 miles.)


Meanwhile Andy and his mate Rob are slowly being tempted to add themselves to the CRX team list. Wonder if there's a finder's fee? :)

On a brighter note the external lighting has now been fixed. AndyG provided some replacement bulbs for the taillight and one of the headlights. He also spotted that one of the sidelight bulbs was half out of the lamp unit.

The coolant level sensor is less of a worry compared to the CV joints, and a quick test showed that it doesn't even work. The paperclip across the connector terminals conveniently prevents the flashing level warning light from coming on... ever! We need to decide whether we're going to seal the hole in the tank somehow, or find a replacement sensor. I'm guessing we might find it useful to know whether there's any coolant left during the trip!

John gave the car a vacuum and wash and said it looks a whole lot better now.
Added: 12/Jun/06 by Darren 0 comments
We have a car!
John & I caught a train to Carlisle yesterday to collect the Team Insaner car. She's a Rover 825i, 18 years old on an E-plate with 70k miles and was purchased for the grand sum of £80.

We were initally worried that the photos we'd seen made her look too good, but seeing her in the flesh reassured us! There are a few issues to sort out:

coolant leaking from expansion tank sensor when hot - first spotted at a petrol station after driving for 100 miles!
interesting headlights - one dipped beam only works when main beam is on
interesting knocking noise - possibly a CV joint?
Our favourite feature (other than the sound of that V6) has to be the massive trip computer. Looking like something out of an 80's scifi show, and with some of the LCD segments failing, we can see our fuel economy (well, the first digit anyway) whilst happily cruising along. Even so, John commented that it's like driving a sofa - it is a strangely relaxing drive...

Photos to follow shortly!

Added: 7/Jun/06 by Darren 0 comments
Silence...
The silence over the bank holiday weekend had coincided with the Rover's owner being out of the country. A quick couple of phone calls later, to discuss how we'd collect the car, and I emailed John to let him know the good news. We can now start making a few more preparations.
Added: 30/May/06 by Darren 0 comments
A Rover 825 for peanuts?
The photos of the car arrived - John and I were impressed, but worried that the cambelt would need changing due to the age and relatively low mileage. The owner then emailed back to say that the cambelt was replaced in the last 12k. I'd already mentioned that the car would be used for a budget cross-Europe rally, the owner then offered us the car for £80 - providing we really were taking the car across Europe and would take a photo of it somewhere exotic... I quickly emailed back - with some innocent pics of cars doing a previous Staples2Naples run, also by StreetSafari - hoping that this would prove that there would be exotic locations. We didn't want to put the guy off selling us his car by showing some of the more lairy entrants! It turns out that he recognised the Unofficial Austin Rover site site I'd taken the pics from. A quick Google search revealed that he'd had some of his previous cars featured on the site! It all went silent after I emailed the owner with an acceptance of his price...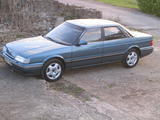 Added: 24/May/06 by Darren 0 comments
Looking outside of eBay - success?
Although we're still keeping an eye on a number of auctions, there's other places to look for cheap cars. Some of the other CRX teams have had success asking round main dealers (our local Toyota garage were polite when we visited them, but had nothing due in) and I feel there's still other places to check. I posted a wanted ad on the Lotus 7 Club forum BlatChat which gave us a few hints including FindIt. I responded to a few adverts, but got negative responses initially. One response was positive - the £295 price was negotiable. I phoned the owner and discussed the car, a 19 year old Rover 825. It was stored at his parents' house 300 miles away from us, further than we really wanted to travel. His parents were obviously quite keen for him to get rid of the car so he was willing to drop the price, providing we'd collect the car as he was at the other end of the country. I asked him to send some photos so that I could discuss the car with John.
Added: 23/May/06 by Darren 0 comments
Near misses and pulled cars
We've noticed that cars sell very differently on eBay to cds, dvds and other small items. People aren't generally that keen to sell their cars below a certain price - and will happily cancel the auction if there are no bids or it looks like they're not going to get their price. Some of the cars are advertised elsewhere.

We've missed out on some good cars - an Audi 80 that we both liked the sound of, an Escort estate, a big old Volvo that had covered almost a quarter of a million miles and some small engined Beemers.
Added: 22/May/06 by Darren 0 comments
eBay hunting
I've now made a search for eBay that looks for all the sub £100 cars within 50 miles that finish in the next couple of days. It's made it a lot easier to spot available cars without wading through quite so much rubbish.

We're not sure exactly what car we'd like, but we do know that it should be at least Escort size and have MOT until mid-September as we don't want the expense and hassle of putting a car through the MOT. There's a reasonable number of cars appearing on eBay that meet our criteria, especially Volvos, Escorts, Sierras, Cavaliers. It's strangely disappointing to watch the bidding on suitable cars pass the £100 mark - one actually finished at £100.02 which was just cruel!
Added: 22/May/06 by Darren 0 comments
We've signed up!
After a week or so of discussing the trip every lunchtime (and possibly outside of lunchtime too) John and I have signed up to do CzechWrecks 2006. As Stan - who told us about the trip in the first place - can't make it we're working out who will be the 3rd team member.

The entry fee has now whizzed out of my PayPal account and into the StreetSafari coffers and we appear to have been assigned team number 34. Team Insaner has been born and our hunt for a car can now become a lot more serious!
Added: 19/May/06 by Darren 1 comments